Pediatric Neurology 2018 Meeting &amp Hospitality
Address
Holiday Inn Rome Aurelia Via Aurelia, Km 8.400 00165 Rome, Italy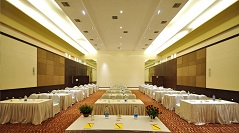 The City
Rome is the capital city of Italy and of the Lazio region. With 2.9 million residents in 1,285 km2 (496.1 sq mi), it is also the country's largest
and most populated commune and fourth-most populous city in the European Union by population within city limits. The Metropolitan City of Rome has a population of 4.3 million residents. The city is located in the central-western portion of the Italian Peninsula, within Lazio (Latium), along the shores of Tiber River. Vatican City is an independent country within the city boundaries of Rome, the only existing example of a country within a city: for this reason Rome has been often defined as capital of two states.
Rome has been a major Christian pilgrimage site since the middle Ages. People from all over the Christian world visit Vatican City, within the
city of Rome. Rome's architecture over the centuries has greatly developed, especially from the Classical and Imperial Roman styles to modern Fascist architecture. Rome was for a period one of the world's main epicenters of classical architecture, developing new forms such as the arch, the dome and the vault. The Romanesque style in the 11th, 12th and 13th centuries was also widely used in Roman architecture, and later the city became one of the main centers of Renaissance and Baroque architect.
Directions
Route Map